Welcome to Nocturne Acres
PUPPIES DUE SEPTEMBER 18,2020
SIRE: CH NOCTURNE'S ZEV IGP1, TC,CD,RN, AD,BH, OFA &"a"normal hips and elbows DM CLEAR
X
DAM: PAM V NOCTURNE'S MARIANNA IGP3, IPO3, UD, TD, OFA& "a" normal hips and elbows DM CLEAR KKL1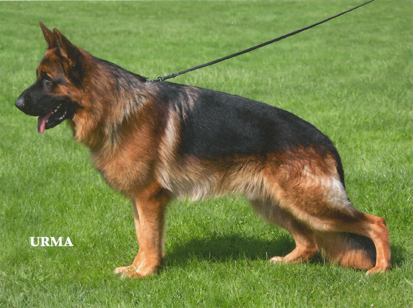 Ch. SG Nocturne's Zev BH TC AD DM Clear OFA H/E Normal "a"
is standing at stud (brucellosis test required)
Sire is VA Ebafamen's Izaro IPO3, normal hips and elbows, DM clear x
SG Nocturne's Tracy BH, AD, OFA normal hips and elbows, DM clear
Congratulations to Nocturne's Marianne for her latest titles:
IGP3, and UD and Rally Novice
Trained adults occasionally available that are housebroken with great temperaments for home protection and or competition.
Puppies Now Available For
2019 German Sieger Willy vom Kuckucksland IPO3
x Nadja v Schmiede IPO1
Puppies Whelped 10/29/2019
Call (727) 424-4202 For More Information
Congratulations to the only SchH3 & Champion Dog & PAM in the US
PAM V GCh Nocturne's Navigator SchH3
UD NA NAJ AD BH KKL1 (life) CGC "A" OFA DNA
__________________________________________


2017 ATAA Results


#5 Producing Dam Award PAM V NOCTURNE'S KIM SchH3, AX, AXJ,
CDX KKL1, OFA H/E TC
#8 PAM V NURMI V D MAIBUCHEN SchH3, UDT, AX, AXJ KKL1 OFA H/E "a" TC
____________________________________________________

GSDCA PERFORMANCE AWARD OF MERIT ACHIEVEMENTS
PAM V NURMI V D MAIBUCHEN SchH3,UDT AX, AXJ, HX, KKL1 "a TC# 9 SIRE
(HIS DAUGHTERS KIM & LACY)
PAM V FUNNY V ALTENBERGERLAND SCH3 AXP AXJP UD "a"
PAM V NOCTURNE'S KIM SchH3, AX, AXJ, CDX KKL1 ofa h&e TC #5 female
(Her SON GATOR LISTED BELOW)
PAM V GCH NOCTURNE'S NAVIGATOR SchH3, UD, NA, NAJ TC, ofa h&e "a"
V PAM NOCTURNE'S IRISH LACE SchH2, IPO2, AX, AXJ, AXP, AXJP, CDX, KKL1


Temperament, trainability and soundness are the bywords for our kennel. We pride ourselves on development of the minds of our dogs and producing correctly structured dogs that have the ability to work in all venues: conformation, schutzhund, agility, obedience, and herding.


AKC Breeder of Merit

What we provide with our puppies:
> The entire litter is registered with the AKC. Each puppy receives an individual AKC registration paper
> A 4-generation certified pedigree from the AKC
> An ISO microchip for permanent identification
> A written guarantee
> 24/7 telephone support
> Feeding & training information
Click here for a puppy application

RESOURCES

Read the German Shepherd Dog Breed Standard booklet from the GSDCA annual Judges' Seminar.

Read an overview of the sport of Schutzhund (using illustrations with Gator!!).

Lookup all the AKC titles. Here's the list of the AKC titles that go in front of the dog's name. Here's the list of the AKC titles that go behind the dog's name.

View more information about the German IPO testing process.
Home of.....

PAM V Nurmi Von Den Maibuchen SchH3 IPO3 UDT AX AXJ HXas KKL1 (life) "A" OFA DNA
PAM V Ch Nocturne's Navigator SchH3 UD NA NAJ AD BH KKL1 (life) CGC "A" OFA DNA
PAM V Funny Vom Alterburger Land SchH3 IPO3 PT UD AXP AXJP "A" OFA KKL1 (life) DNA
PAM V Nocturne's Kim SchH3 AD BH CDX PT AX AXJ KKLl life OFA DNA
PAM V Nocturne's Irish Lace SchH1 CDX AX NAJ KKL1 AD BH "a" OFA (E normal/H good)
Nocturne's Lynda TC OFA H/E "a" normal
SG Nocturne's Marianna "a" BH AD OFA H/E DM clear
SG Nocturne's Zev BH TC AD OFA H/E Normal "a" DM Clear

2017 GSDCA National Specialty & Trial

2017 High Scoring Champion (Zev)
2017 High Scoring IPO Dog (Marianna)